Save Dry Ice with
the Dry Ice Booster
Insulated paper bags for optimised dry ice shipping. Save up to 50 % dry ice.
Dry ice is light, non-sticky, cools up to 80 °C and literally dissolves in air. Ideal for shipping frozen products. However, it takes up a lot of space in the package and is expensive. Landpack has recognised this problem and invented an effective solution: the Dry Ice Booster.
If dry ice is self-insulated, it evaporates more slowly, the cooling curve is less pronounced and the cooling duration is stretched. The Landpack Dry Ice Booster optimises the use of dry ice. Same performance, but with up to 50 % less dry ice.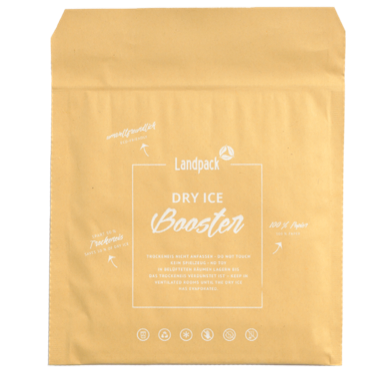 Dry Ice Booster®
Save up to 50 % of the amount of dry ice for the same cooling time – cost-saving!
Optimises cold distribution due to constant large surface area and reduced heat consumption
No risk of burns on the dry ice for your customers
Damage to the outer carton due to condensation is prevented
Recycling with paper waste
Developed by Landpack
Our coolant calculator: individually tailored to every package and every route