For peak performance:
The Landbox Straw
Passive insulated packaging for shipping temperature-sensitive goods. Food and GDP-compliant. Compostable. Climate-friendly.
Straw is a by-product of grain harvesting. It is hardly used at present and does not compete with the production of foodstuffs. Straw is an excellent insulator with a similarly low thermal conductivity value as Styrofoam. It has therefore been used for building insulation for over 100 years.
As an insulating box, straw also has the advantage that it regulates moisture. Due to the good resilience of straw, even goods that are sensitive to impact and pressure can be shipped safely protected. Suitable for all applications in which previously only polystyrene was possible.
Landbox® Straw
Excellent insulation & shock absorption
Thermal conductivity like high-quality Styrofoam
Compostable: disposal in the organic waste bin or in the garden
Fully recyclable
Local raw material extraction & production near Munich
Hygienic, strictly controlled
Humidity regulating
Dimensionally stable and without cold bridges
Space saving delivery & storage
Many standard sizes & variants
Climate-neutrally produced with 100 % renewable energy sources
As 100 % natural material almost completely exempt from disposal costs via the "Duales System" in Germany
Food-grade: For the highest requirements in the areas of Frozen, Cool or Ambient
Radically
Straw is currently the raw material with the highest potential for new uses. Hardly any other biomass accumulates in these quantities every year. In Germany, 30 million tonnes of cereal straw grow every year, of which 10 million tonnes are available for industrial applications - without any ecological disadvantages for the humus balance.
Only 1 % of the 89 million tonnes of straw that can be used sustainably each year in the EU would be enough to completely replace, for example, polystyrene. Our straw comes from contract farmers in the region. This keeps transport routes to a minimum and the transparency of the supply chain high.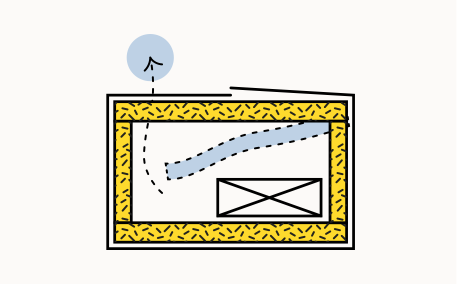 Form stability
The Landbox maintains the same sturdy structure which you are used to from EPS. The dimensionally stable insulation panels precisely fit your cardboard. This prevents the top flap to fold over and leave gaps where cold air escapes.
Equally distributed insulation
Unlike other insulation material which is loose bulk material, our straw panels provide the same defined wall thickness everywhere and throughout the shipment. Thanks to the sturdy structure of the straw panels you will experience no troubles with compression even when shipping heavy products.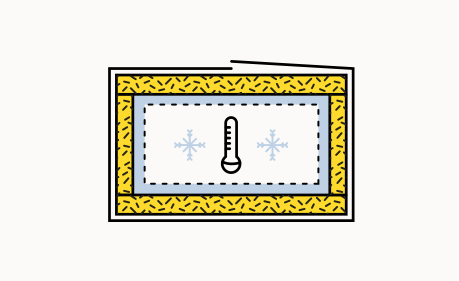 Outstanding thermal performance
We offer insulation packaging with different wall thickness to meet your thermal requirements. We can produce any thickness you need for any complex cold chain. We provide you with the thermal testing to make sure your perishables remain intact wherever you ship them for how long it takes.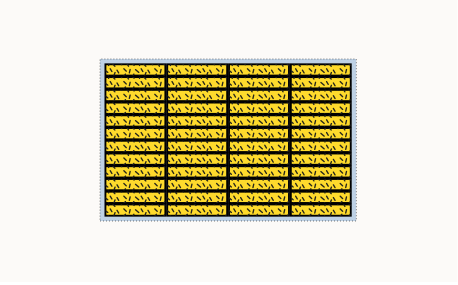 Space-saving logistics - 3x more
Due to the modular design of the Landbox, 3 times more boxes fit on one pallet compared to conventional insulated boxes. The pallet size is thus utilised in the best possible way, transportation, storage and logistics costs are reduced to a minimum.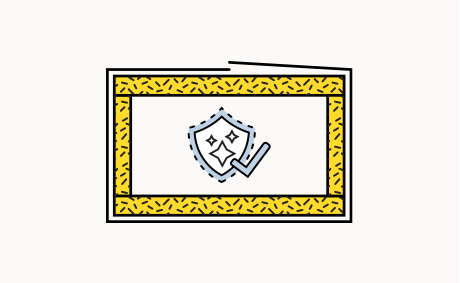 Hygienic - Patented Straw Fiber Processing
We use straw fibres in their pure form, clean and process them according to foodstuff technology methods. Thanks to our internationally patented process, we can completely dispense with additives. Your customers receive the purest straw in the world - for disposal in the organic waste/garden or use for pets.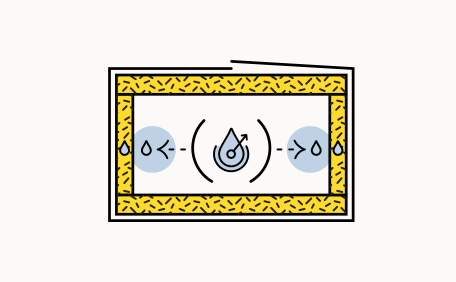 Humidity Regulation
A unique feature when using natural fibers. They absorb the moisture of condensation water, lower the humidity inside the box during shipping and release the moisture into the air when opening the box. Thus, paper packagings, fruits and vegetables and all other products which should not be stored in contact with condensation water, are protected and have a longer shelf.
Compostable organic wrapping (starch-based)
Straw core contains no additives, 100 % cleaned straw
Recycle as a whole in the organic waste bin (DIN EN 13432 certified)
Wafer-thin PE coating (mono-material)
Straw core contains no additives, 100 % cleaned straw
Separate disposal: straw core in the organic waste bin and wrapping in the yellow bag or recyclable waste bin – easy to separate by hand
Optional: disposal entirely in the grey bin
Temperature ranges & temperature curves
The Landbox Straw was awarded as an 'outstanding product based on renewable raw materials' by the Bavarian Ministry of Agriculture.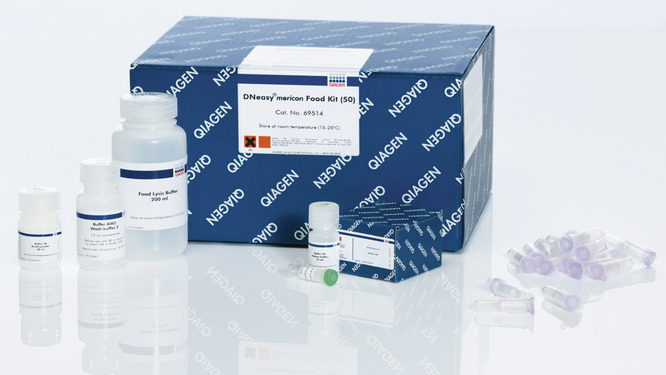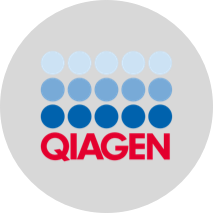 Success Stories
A Dax company makes a change - QIAGEN says goodbye Styrofoam, hello straw!

Worldwide, QIAGEN serves more than 500,000 customers looking for answers to the building blocks of life – DNA, RNA, and proteins. The challenge? When shipping temperature-sensitive and valuable reagents and test kits, the cold chain must be precisely maintained for up to 4 days. QIAGEN ships its products in the frozen range (below -15 °C), cool (2–8 °C) and ambient (15–25 °C) in numerous countries.

'Reducing our plastic packaging is one of QIAGEN's key sustainability goals. A few years ago, we started looking for an alternative to Styrofoam. However, we were never satisfied with the existing offerings on the market. Landpack is pursuing a novel concept with the raw material straw, which convinced us with the ecological properties of the packaging.'

Markus Guderian, Associate Director Supply Chain Operations EMEA

In a one-year validation process, each required size of Landbox Straw was tested against QIAGEN's high requirements according to international standards. Packing schemes were developed and validated depending on the temperature profile. Since 2020, QIAGEN has been gradually converting its refrigerated logistics from Styrofoam to straw, thus setting a strong example for more sustainability in the biotech industry.

For more information how QIAGEN uses the Landbox Straw go here
and for insights into the validation process go to this site.

QIAGEN
Biotech
Frozen
2-4 Days
FAQs
Why straw?
Straw is a local renewable raw material. Straw is a by-product of grain harvesting. Currently, it is rarely being used and does not compete with food production. Straw is an excellent insulating material with a low thermal conductivity value similar to Styrofoam. It has therefore been used for building insulation for over 100 years.
As insulating packaging, straw has the advantage that it regulates moisture and thus reduces humidity in the packaging.
Due to the good resilience of straw, even goods that are sensitive to shocks and pressure can be shipped safely protected.
Does the straw contain additives?
The Landbox is produced completely without additives such as adhesives. The consumer receives a pure natural product that can be disposed of in organic waste or used in the household, such as in the garden or as bedding. The panels can be easily loosened for this purpose. It is probably the purest straw in the world.
How long can I keep goods cool with the Landbox?
The cooling performance depends on the outside temperature, the number of cool packs or the amount of dry ice, the temperature of the goods, the internal volume, and the type of packaging arrangement (especially avoiding hollow spaces). Thus, making a blanket statement is difficult. Even in midsummer, a standard shipment in the temperature range of ‑1 °C to 4 °C over 2–3 days is ensured with a well-packed Landbox straw. Deep-freeze shipping in standard postal shipping is also possible year-round in combination with dry ice.
How is the insulating effect created?
The high insulating effect of the Landbox is based on the fact that all physical mechanisms of heat transport – namely heat conduction, convection and radiation – are effectively minimised. This way, a thermal conductivity value like that of Styrofoam is achieved.
How can the packaging be disposed of?
We offer two different variants of the Landbox:

Landbox Duo for separate disposal of straw core and wrapping. The straw core contains no additives or binders. It is pure straw and thus can be discarded in the organic waste (or garden) without hesitation. The wrapping is a wafer-thin PE film (mono-material). PE is the plastic that is most recyclable. Straw and film can be easily separated by hand. Entire panels can also be disposed of in the residual rubbish.
Landbox Bio for complete disposal in organic waste. The non-woven wrapping of the Landbox Bio is made of polylactide (PLA): 100 % renewable raw materials. The wrapping is certified according to DIN EN 13432 for industrial composting. Despite the Europe-wide standard for industrial composting, many waste disposal companies do not accept bioplastics in the organic waste bin, partly because of misdirected rubbish. The straw core and wrapping of the Landbox Bio can also be easily separated by hand for separate disposal. Disposal in the residual waste is also possible.

By the way: We examined the biogas yield of our Landboxes as part of the reGIOcycle Research Project, and the results are impressive: One Landbox straw with a capacity of 15 litres yields 800 litres of biogas for decentralised electricity and heating supply. For a climate-neutral economy and society, we need base load-capable sustainable energy sources like biogas.
How sustainable is the Landbox?
Unlike wood, straw grows again every year within a few months. Although straw accounts for 50 % of the grain harvest, there are hardly any applications outside agriculture. All studies show that at least 1/3 of the straw produced can be removed – without negative effects on the humus balance. This corresponds to 10 million tonnes of straw annually in Germany alone. In contrast to wood, there is still a lack of possible applications. Straw is therefore the biomass with the greatest potential for use.
We source our raw material straw from farmers in the immediate vicinity with a transport radius of less than 10 km. This minimises our ecological footprint in the procurement of raw materials. At the same time, we have maximum transparency over our supply chain. Our customers know from which field and farmer the material of their packaging comes.
We enable small and medium-sized full-time farms to grow cereals profitably by additionally selling the by-product straw that previously was unprofitable to sell. Our contract farmers generate double the turnover and above-average profit per hectare of grain.
We are committed 100 % to renewable energies. Our entire production, administration and development are powered exclusively by renewable energy sources and we have carefully considered the selection of suitable suppliers. For example, our 100 % green electricity comes from regional biogas, hydropower, photovoltaic and wind plants in Bavaria.
At the same time, we only need 1/50 of the primary energy requirement compared to Styrofoam.
Since our straw contains no additives, it can be disposed of in the garden or organic waste. This way, a Landbox not only produces heat and electricity but also nutrient-rich humus. Climate protection starts with our own bins. While plastics are incinerated, exported or in the best case downcycled once, and paper can only be recycled 5–7 times, the organic waste bin closes the natural cycle and furnishes biogas at the same time. The Landbox closes the natural nutrient and humus cycle.
What do I have to consider when setting up the Landboxes?
Since the Landbox consists of individual panels, it is important that it closes well and that the panels are arranged precisely. The panels are made with a slight oversize so that they are inserted with a little pressure.
In general, the cooled space should be kept as small as possible. Unfilled interior volume must be stuffed with filling material.
For detailed tips on refrigerated shipping, take a look at our guide.
Is the packaging hygienically safe?
We only work with contract farmers who meet our high-quality standards. We control every step of the process from cultivation and harvesting to storage and delivery. Before processing, our straw is microbiologically tested and used only if in perfect condition.
The production process includes in-line cleaning, dust removal and disinfection, ensuring that the Landboxes are hygienically clean. In addition to manual quality assurance, we work with artificial intelligence for automated testing of each individual panel. The microbiological limits of our packaging are also continuously tested by independent institutes.
What about dry ice?
For frozen shipping, dry ice is required. Our packaging is tried and tested for frozen shipping in combination with dry ice.  Read more about frozen shipping here.
Can the Landbox be used more than once?
Many of our customers use our packaging several times and carry out a visual inspection and surface cleaning. The Landbox Duo is more suitable for multiple use with cleaning than the Landbox Bio, as the latter is not wipeable.
The energy input of a Landbox is roughly equivalent to a 7.5 second car journey. From an ecological point of view, multiple use with corresponding long return transport distances is therefore not necessarily sensible. We are happy to personally discuss whether multiple use can be economically worthwhile – depending on your needs.
Is the Landbox produced in a climate-neutral way?
Landbox Straw is made with a minimal carbon footprint. We use 100 % renewable energy sources and report all emissions (scope 1,2,3). For more information.
Feel free to ask for a more detailed report on our Corporate Carbon Footprint as well as the Product Carbon Footprint of Landbox Straw.
Where is Landbox Straw produced?
Landbox Straw is produced by Landpack in Alling near Munich. The raw material comes from farmers in the Fürstenfeldbruck district. Our two wrappers (Landbox Bio and Landbox Duo) are produced in Europe.
Is there a suitable and environmentally friendly filling material?
We recommend food-safe filling paper.
Filling material based on starch is unsuitable because it sticks together easily when damp.
Quality criteria
To produce the Landbox, straw of food quality is used. The highest quality criteria already apply during harvesting and storage. Straw batches are microbiologically tested. During processing, the straw is dedusted, cleaned, disinfected, and prepared for direct food contact. The international standards for the production of packaging with superior hygienic requirements are met.