Back
Press Release
Landpack Introduces Insulated Packaging Made of Hemp
26.09.2016 | by Patricia Eschenlohr
Landpack Introduces Insulated Packaging Made of Hemp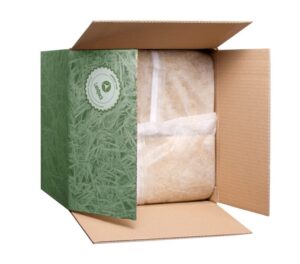 Munich, 26th September 2016 – The Munich-based packaging and engineering company Landpack introduces a new, completely ecologically decomposable insulated and protective packaging with the Hemp Landbox on the basis of hemp. Apart from the Landbox on the basis of straw this is the second worldwide innovation in the sector of eco-friendly shipping packaging that has been developed by Landpack.
The Landbox Hemp is made of 100% natural material and can be disposed of in your organic waste. Hemp regulates moisture and can be amazing as an insulating material once combined with cooling elements. The Landbox Hemp does not only impress with its protection of goods that are sensitive to shock, but also their flexible commissioning regarding the amount with which the box is packed.
"With the Landbox Hemp, we fulfil our customers' wishes for ecological insulated packaging with different quantities of goods.", says Landpack's executive director Dr. Thomas Maier-Eschenlohr.
During production of the hemp fleeces, the following are not used, flame inhibitors, bonding agents or preservatives. In addition, during the planting of the hemp, fertilizers are not used due to the fact the hemp plant's shadow is so large that weed can't grow. 97% of the plant can be used in form of fibers, straw and seeds as a source of resources for other products.
"Packaging should not only fulfil functional aspects. During the development of our Landbox Hemp, we have concentrated on a packaging that comes with added value by making customers happy once they open it, or awakening great associations and leading to inspiration for further usage. That's why both our packagings are so different from other ones on the market." (Dr. Thomas Maier-Eschenlohr)
Press Contact
Landpack GmbH Patricia Eschenlohr +49 (0)176 23555454 Patricia.Eschenlohr@Landpack.de
About Landpack GmbH
Landpack® is located in Puchheim, near Munich, and develops and operates manufacturing facilities to produce innovative insulated packaging on the basis of regrowing material. The Landbox® is the first ecological insulated packaging that can be disposed of as biological waste and the first eco-friendly alternative to plastic shipping packaging since it is made of straw or hemp. The installation engineering regarding the production of the Landbox has been developed by Landpack and is also build and developed by the company. Landpack controls every step of the process and ensures constant quality.
Patricia Eschenlohr
Co-Founder, CMO