Munich, 26.06.2018
For the third time in suc­ces­si­on, lea­ders in the glo­bal agri­cul­tu­ral sec­tor — Bay­Wa AG and RWA Raiff­ei­sen Ware Aus­tria AG — have sought and selec­ted the world's best agri­cul­tu­ral start-ups.
252 app­li­ca­ti­ons from 53 coun­tries were recei­ved this year. The 9 fina­lists were selec­ted in a mul­ti-sta­ge selec­tion pro­cess at the end of June, inclu­ding Landpack!
Apart from us, only one other Ger­man start-up had made it into the final race. They all have one thing in common:
We are working on ground­brea­king topics in the agri­cul­tu­ral sec­tor, we are alrea­dy well estab­lis­hed in the mar­ket and now want to grow fur­ther inter­na­tio­nal­ly. In addi­ti­on to straw-based poly­sty­re­ne sub­sti­tu­tes, the topics inclu­de bio­in­sec­ti­ci­des, hor­se sen­sor moni­to­ring, feed manage­ment sys­tems, reduc­tion of nitro­gen emis­si­ons, farm manage­ment plat­forms and net­wor­ked solar-powe­red lawn­mower robot fleets.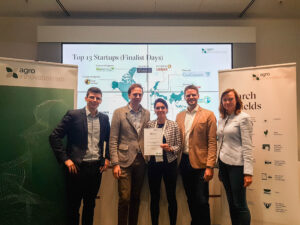 The press relea­ses can be found here at AIL, RWA and Bay­Wa.
More about the Agro Inno­va­ti­on Lab here.