Munich, 26.06.2018
For the third time in succession, leaders in the global agricultural sector – BayWa AG and RWA Raiffeisen Ware Austria AG – have sought and selected the world's best agricultural start-ups.
252 applications from 53 countries were received this year. The 9 finalists were selected in a multi-stage selection process at the end of June, including Landpack!
Apart from us, only one other German start-up had made it into the final race. They all have one thing in common:
We are working on groundbreaking topics in the agricultural sector, we are already well established in the market and now want to grow further internationally. In addition to straw-based polystyrene substitutes, the topics include bioinsecticides, horse sensor monitoring, feed management systems, reduction of nitrogen emissions, farm management platforms and networked solar-powered lawnmower robot fleets.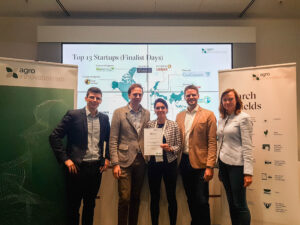 The press releases can be found here at AIL, RWA and BayWa.
More about the Agro Innovation Lab here.