Back
Press Release
Landpack is Awarded with the Neumacher Founding Award 2016 by WirtschaftsWoche
30.11.2016 | by Patricia Eschenlohr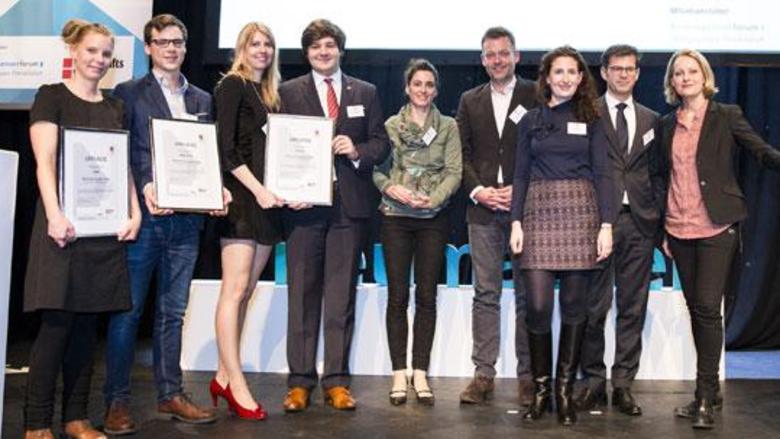 Landpack is Awarded with the Neumacher Founding Award 2016 by WirtschaftsWoche
Hamburg, 30th November 2016 – The Munich-based packaging and engineering company, Landpack, has been named the most innovative Start-Up of 2016 during the Neumacher Conference by WirtschaftsWoche. The Neumacher Founding Award is initiated by the trade journal group and has been awarding Start-Ups for 10 years, if they are able to convince them promising and pioneering concepts.
This year 200 Start-Ups have applied for this desired award, that comes with 10.000€ and non-cash benefits worth 300.000€. Among these are a personal mentoring by Metro Head Olaf Koch, which provides consulting in regards to building a brand strategy and a coaching by High-Tech Founding Funds.
"Landpack's story is one of bravery, persistence and a sense for innovation", that's what the WirtschaftsWoche has to say. Landpack could also convince with a completely new packaging concept with the right engineering behind it. The ecological shipping packaging replace plastic with reusable products such as straw or hemp. They are the first company in this world that offer a completely compostable solution to customers. Alexander Zumdieck, juror and managing director of the Metro Techstar Accelerator states "The founders have found their own way, in which they can spin straw into gold".
"Our packaging accomplishes more than Styrofoam, it looks great and is purely natural." These are words by Landpack's chief executive Dr. Thomas Maier-Eschenlohr. "We are so happy to receive the Neumacher Founding Award 2016. It's a great award and it encourages us to keep going. Germany doesn't need to continue to be Europe's champion in plastic packaging. We already have sustainable alternatives for shipping packaging and are working on more solutions for other areas."
Apart from the Neumacher Founding Award, Landpack has also won the German Packaging Award, the Next Economy Award, a renowned prize in the sustainability community, and the Innovation Award of Regrowing Resources by the Bavarian Department of Agriculture.
Press Contact:
Landpack GmbH | Patricia Eschenlohr | +49 (0)176 23555454 | Patricia.Eschenlohr[at]Landpack.de
About Landpack GmbH
Landpack® is located in Puchheim, near Munich, and develops and operates manufacturing facilities to produce innovative insulated packaging on the basis of regrowing material. The Landbox® is the first ecological insulated packaging that can be disposed of as biological waste and the first eco-friendly alternative to plastic shipping packaging since it is made of straw or hemp. The installation engineering regarding the production of the Landbox has been developed by Landpack and is also build and developed by the company. Landpack controls every step of the process and ensures constant quality.
Picture: Sebastian Muth for WirtschaftsWoche
Patricia Eschenlohr
Co-Founder, CMO