Back
Guide
Refrigerated shipping via post? This is how safe and sustainable food shipment works
17.07.2022 | by Maleen Scheible
E-food is the name of the big trend in food retailing. It has never been easier to do your weekly shopping and purchase special foods such as fancy ingredients, special foods for athletes or vegan foods on the side and have them delivered to your doorstep. At least since the beginning of the Corona pandemic, online food retailing has been in a growth frenzy. Would you also like to profit from the e-food boom and offer your food online? Here we show you how your products can be packaged sustainably and reach customers fresh and intact.
Stability due to the matching cardboard box
Thrown, twisted, and squashed – a package has to withstand a lot on its journey to the recipient. Stable packaging is essential, especially when sending sensitive and fragile foodstuffs like glass-packed preserves, liquids, or drinks. A package must be able to survive a fall of up to 80 cm – even if it falls on one of the corners. Thus, the outer carton should be as stable as possible and adapted to the weight and size of the shipment. For parcels weighing over 5 kg, double-walled cardboard packaging is recommended to ensure additional stability.
Many parcels are not damaged from falling but by being crushed. A box must be able to tolerate the pressure of 10 or more packages stacked on top of each other.
Shipping companies do not guarantee that your food will be transported 'right-side up'. However, if you place the shipping label on the top side, there is a good chance that your package will be transported that way. Stickers or printing such as 'Caution! Glass' or arrow symbols are useful for the recipient, but in transport, parcels marked in this way are not treated differently. Fully automated sorting machines cannot read these notices.
Note: If your parcel damages sorting equipment or other parcels during the shipping period due to negligent packaging, you may be held liable for this by the logistics provider.
Did you know? Due to the excellent resilience of straw, our land boxes can significantly reduce the risk of breakage of glass products as well as other product damage! We will be happy to advise you on a custom-fit compartment for your bottles or jars.
Fresh and intact thanks to natural insulation and padding
Whereas with long-life foods you must first and foremost ensure their survival during transit in one piece, with chilled goods the respective specified temperature range must be maintained throughout the entire shipment. The most critical are fish, seafood, and minced meat with a temperature range of 0–2 °C, followed by meat with a temperature range of 0–4 °C.
It is best to put the food in the package so that it is a few degrees below the maximum allowable temperature. For the 0–2 °C range, it is advisable to precondition the packaging material in cold storage for several hours prior to shipping.
The respective maximum limits for food according to 'Food hygiene – Temperatures for food' (DIN 10508: 2012) serve to protect consumers. Nevertheless, many foods can also suffer in quality if they fall below certain temperatures, such as tomatoes, apples, or certain types of cheese.
You might need refrigerated packaging for mixed baskets of goods that allows different temperature ranges within a package or have to use insulated bags for the refrigerated goods and pack them with the non-refrigerated food in a larger outer carton.
Tip
You can avoid freezer burn if the food in direct contact with cold packs is wrapped with paper.
When shipping chocolate, it is better to use good insulation and avoid using cold packs. Otherwise, fat ripening can occur during cooling, and sugar ripening can follow if there is moisture. Good insulation is sufficient to maintain the ideal temperature of 10–18 °C.
When shipping baked goods, the insulating packaging should be moisture-regulating to keep condensation to a minimum.
Tip
When testing, measure the core temperature of the goods and not the internal air of the packaging.
Did you know that 36% of online shoppers regularly buy food online only if it is delivered in environmentally friendly packaging and with little packaging waste? Whether it's fish, meat, cheese, desserts, or all of them mixed together – with our natural packaging, your shipped food stays continually fresh!
Our straw Landbox is not only a real eye-catcher, but also scores with its insulating performance previously only associated with Styrofoam. The Landbox achieves a temperature range of -1 °C to 4 °C for up to 65 hours, while regulating humidity at the same time. This ensures the flawless quality of the shipped food even with summer-like outside temperatures. At the same time, the straw insulation achieves reliable shock absorption, protecting pressure-sensitive and fragile foodstuffs. With an additional straw panel, two different temperature ranges can be separated from each other within one package and everything is transported safely.
Our Landbox made from the fibres of the super plant hemp also awes customers with reliable insulating properties like those of Styrofoam packaging. Unlike Styrofoam, natural fibres breathe and regulate the moisture that arises in combination with cold packs inside the packaging.
Landbox Straw
Our power cooler made of straw - for the highest demands on temperature and shock protection: up to 65 h below 4 °C even in summer. Climate-friendly and compostable.
Details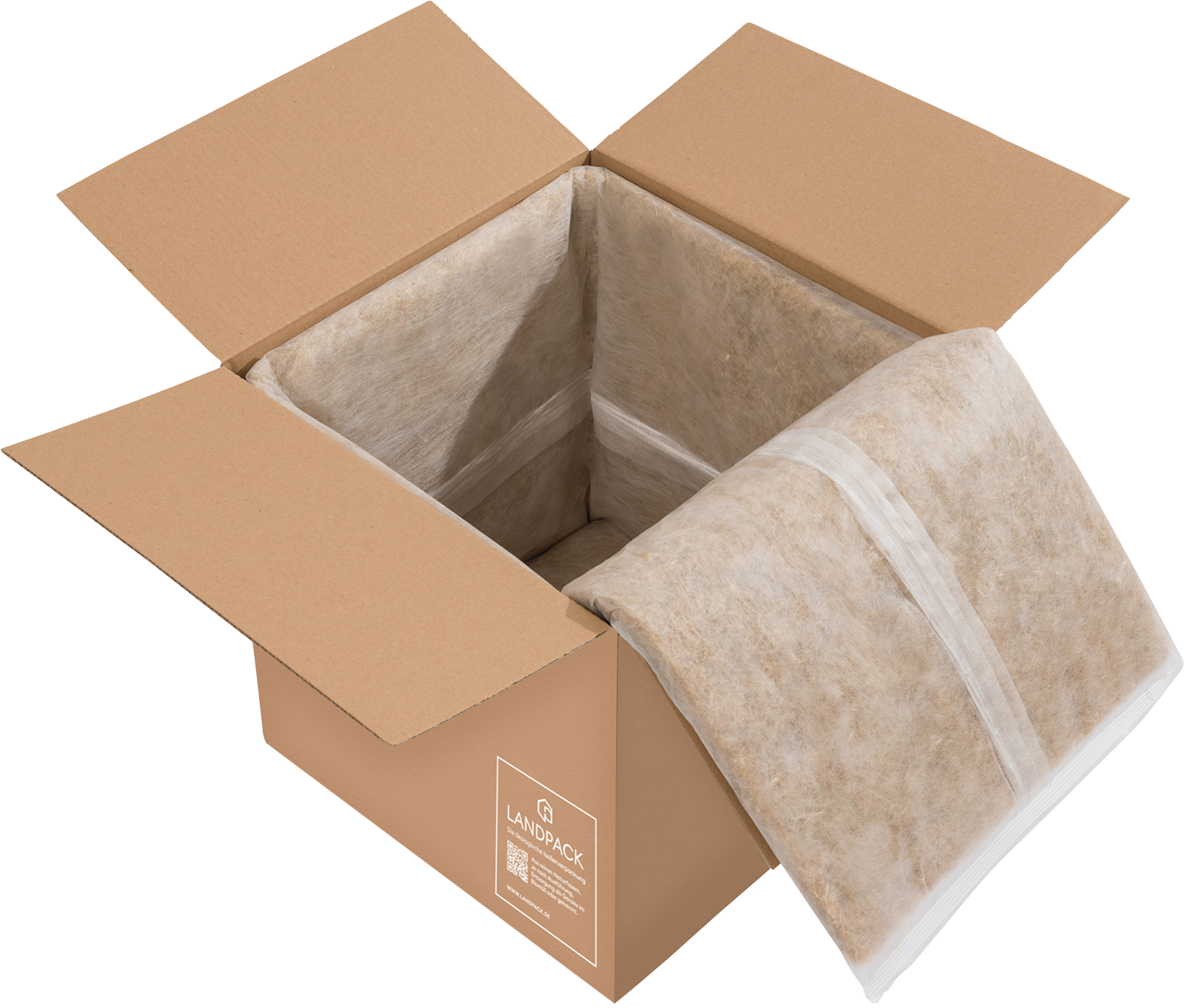 Landbox Hemp
The space-saving and high-quality thermal packaging made of hemp for more flexibility and small volumes. 100 % natural product, great touch and individually printable.
Details
Landpack Pouch
The best solution for mixed carts and small volumes. 100 % natural product, great touch and individually printable.
Details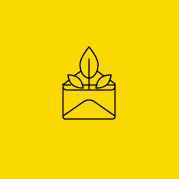 Contact
Get in touch and we will gladly provide detailed advice regarding your individual products or shopping baskets.
Cooling agents – from gel pads to PCM batteries to dry ice
Insulated packaging alone is usually insufficient for shipping chilled food. Cooling agents ensure that the temperature of the goods brought in is kept within a certain range over a defined period.
Water-based cooling elements
Water is an ideal cooling medium, because it has a very high heat of fusion of 333.5 kJ/kg and a specific heat capacity of 4.19 kJ/(kgK). This means: During the transition from solid to liquid, as much heat is needed as for heating water from 20 to 100 °C.
When using water cooling packs in combination with a very good passive insulating packaging and a correct packing method, a temperature in the range of about 2 °C will soon settle in the pack. This remains stable until the cold packs melt.
Tip
Cold packs should be kept in the freezer for at least 48 hours before shipping.
Hard plastic cold packs
Hard plastic cold packs: This cold pack is usually filled with water before shipping. The battery is stable and thus can withstand large loads. Bursting or leaking like gel pads is unlikely. Due to the high procurement value and immense material input, it only makes sense when used repeatedly.
Absorber elements
These coolants are supplied semi-finished, which is why they save space and are cheaper to transport. They are made of synthetic superabsorbents and need to be soaked in water before use, which forms the gel. The problem: the superabsorbents in the gel mass are so-called microplastic particles known to be harmful to the environment and inseparable from the water in recycling. Thus, in waste incineration plants, the stored water must be burnt in an energy-intensive way.
Gel cushion
The gel mass is based on synthetic superabsorbents and water. Due to the large surface area, gel pads usually have very good cooling properties, normally consisting of 99.5 % water and 0.5 % synthetic superabsorbents. These absorb the water completely and form a gel mass. Here, too, gel absorbents and water can no longer be separated. Gel pads can therefore only be ecologically justified in multiple applications.
Fillable cooling pads
Our cooling pads are sent empty, reducing transport costs and CO2 emissions in shipping by 97%. The cooling pouches are filled with water, frozen flat, and replace gel pads. Your customers can empty the water in the sink and return the bags to you empty. With our cooling elements, you use the good cooling properties of water and reduce the amount of microplastics. The cooling pads are also printed on the inside and therefore suitable for direct food contact.
Sending frozen goods
There is no way around dry ice in frozen food shipping (<-18 °C). With sufficient dry ice and very good insulating packaging, mailing frozen foodstuffs even works in midsummer. With our Dry Ice Boosters, you save up to 50% dry ice for the same delivery time.
Guide to frozen food shipping with dry ice
Optimise your coolant use
If you use too little coolant, the coolness will not be maintained. On the other hand, use too much and packaging and shipping will become more expensive. You may also need larger packaging and fall into a different weight class with your parcel service provider. The amount of coolant required depends on the following factors:
Outdoor temperature
Shipping time
Size of the insulating packaging
Initial temperature of the goods
Shape of the cold packs
Amount of water ice per ice pack
Density of the dry ice
Arrangement of the coolants
Arrangement of the goods
Our Coolant Calculator helps you to determine the optimal amount of coolant depending on the individual route, weather data at the shipping and receiving location, the goods, and the packaging. In addition to the right amount, the surface area of the cooling elements is also crucial. The larger the surface area, the more cooling can be released quickly.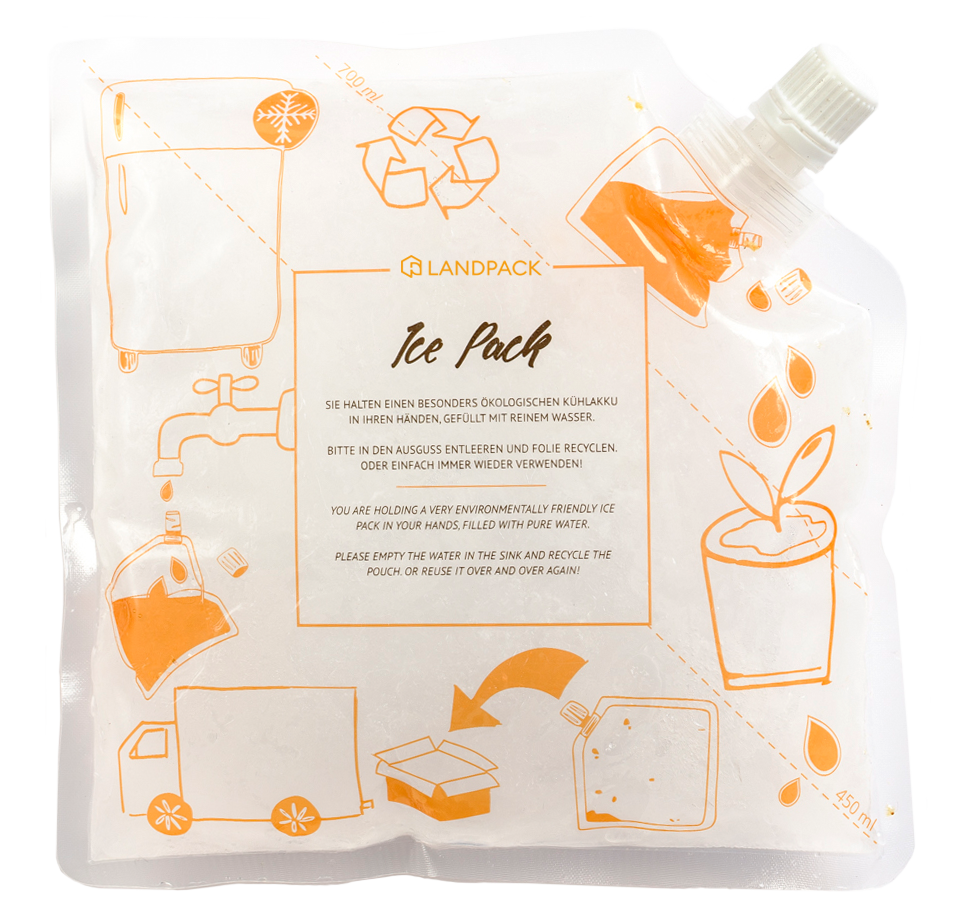 Cool Pads
Environmentally friendly water cool pads without microplastics. Coolant calculator to optimise the required amount of cool pads.
Details
Dry Ice Booster
DryIceBooster® for halving the dry ice requirement. Coolant calculator for optimising the required amount of dry ice.
Details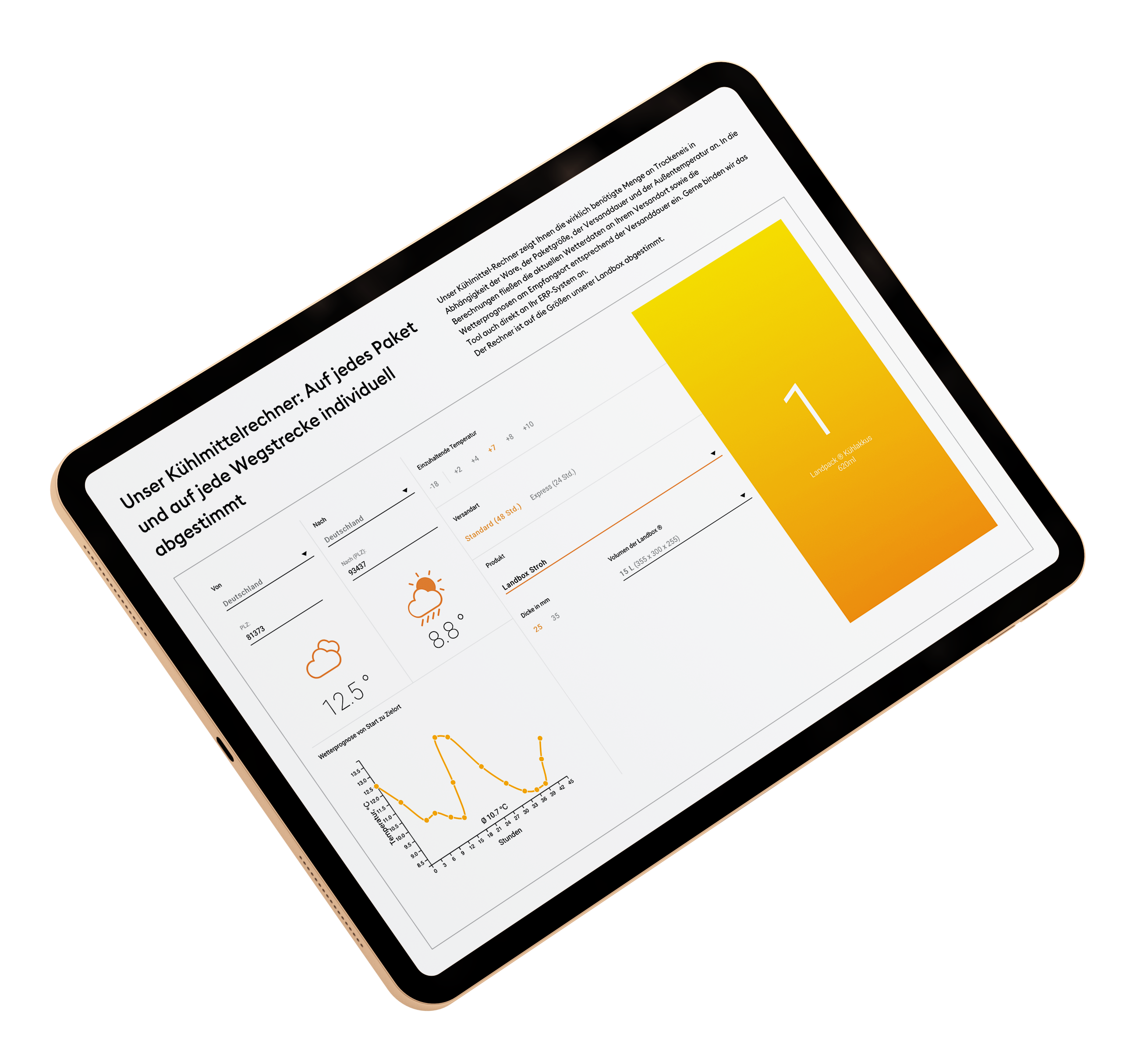 Cooling Elements-Calculator
Individually adapted to each package and each route. To optimise your required amount of ice packs and dry ice.
Details
The right packing method makes the difference
Distribute the cooling elements on the sides and top of the package. You need the least amount of coolant at the bottom, as warm air rises. However, the package can be rotated. Depending on the number of coolants used, placing one at the bottom is also recommended.
Keep the cooling area as small as possible and avoid empty spaces by using, for example, filling material made of paper.
Place temperature-sensitive food in the middle of the box or near the cold packs.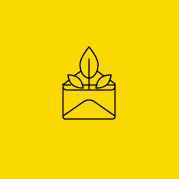 Contact
Qualification of your refrigeration: Do you need individual packaging tests in the climate chamber or GDP-compliant qualification of your packaging? Get in touch with us!
No shipping packaging without tear-resistant adhesive tape. To go with sustainable insulating packaging, you can also get paper tape designed for extra-heavy packages from us. This is how you pact: naturally!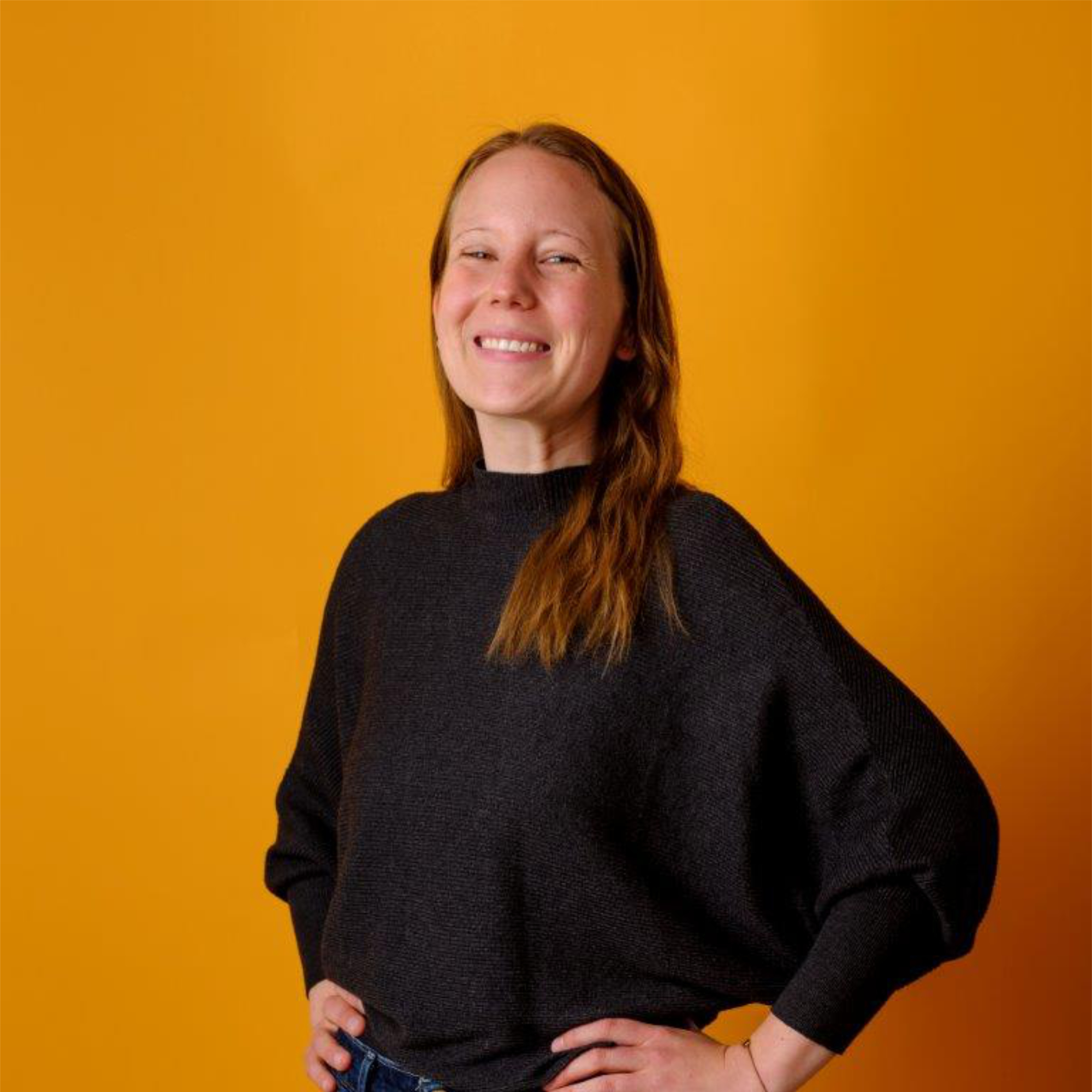 Maleen Scheible
Trainee Vertrieb, Marketing & Operations