Back
News
Product Carbon Footprint Landbox Straw
23.05.2023 | by Patricia Eschenlohr
Product Carbon Footprint Landbox Straw
As part of a detailed product carbon footprint, we have looked at the greenhouse gas emissions along the entire value chain of Landbox Straw as well as the humus and nutrient cycle. We are guided by the "cradle-to-customer and disposal" approach and consider all process steps from raw material, inbound logistics, production, outbound logistics to disposal at the private consumer.
The functional unit of the data presented here is a medium-sized Landbox Stroh Bio with a volume of 22 L and a wall thickness of 35 mm. A 22 L Landbox Stroh Bio emits 0.41 kg CO2eq over the entire value chain. This is equivalent to the CO2 emissions of taking a hot shower for 15 seconds.
of CO2 emissions compared to Expanded Polystyrene
of water consumption compared to recycled paper
additional biogas generation per Landbox
Direct emissions
of a medium-sized Landbox Straw consisting of raw materials and production
+ Indirect emissions
including all preceding and subsequent value-adding processes, incl. transport packaging
= Total emissions
along the entire value chain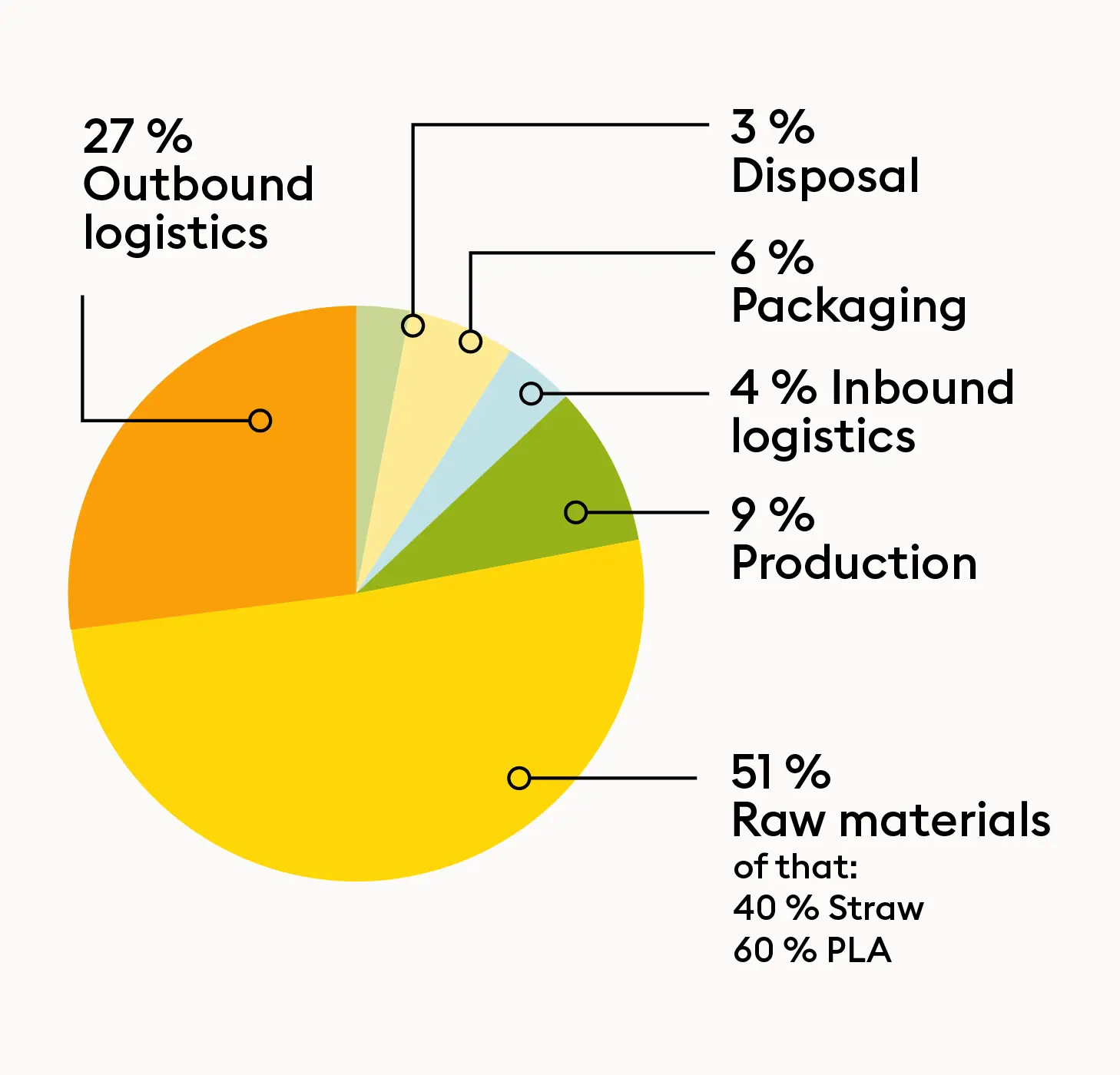 Our product carbon footprint calculations include:
Grain cultivation and harvesting

Baling, storage and transport of the straw bales

Production of the PP twine to secure the straw bales

Production and inbound logistics of the wrapping (PLA)

Production and inbound logistics of all packing material for transportation

Production of the Landbox Straw in Alling

Outbound logistics to our customers by external forwarding agency

Disposal of the transport packaging at our customers

Disposal of the Landbox at the end user
%
Water consumption per kg of straw insulation
There is a lot of talk in Germany about CO2 emissions and surprisingly little about water.
At Landpack, we are proud to say that our technology produces no waste water and requires only 0.05 L / kg of straw insulation in production. In contrast, the supposedly environmentally friendly recycled paper requires 224x as much water in production. This also makes our straw packaging presumably the most sustainable cooler in the world.
Liter Biogas
Energy recovery in fermentation
The fermentation of one ton of straw produces 243 m3 of biogas. Research projects on straw fermentation have shown that even a small incorporation of straw into the biowaste bin significantly increases the biogas yield.
If the Landbox is recycled via the biowaste bin, 160 L of biogas or 1.7 kWh are generated from a Landbox with 22 L and 35 mm wall thickness. Losses due to incorrect disposal of biowaste were included. In addition, it was taken into account that not all biowaste is supplied to the fermentation process. Thus, we arrive at 27 % of Landpack straw panels being fermented before composting. Based on the German energy mix, one Landbox saves 0.34 kg CO2eq through biogas extraction. The total emissions of a 22 L Landbox straw, taking into account the biogas generation, are therefore only 0.07 kg CO2eq.
%
Closed humus and nutrient cycle
The composting of the Landbox via the organic waste bin has a double benefit:
1) As a substitute for artificial fertilizer in agriculture: the nutrient-rich biocompost produced in the composting process is used by farmers as a local source of nutrients for additional fertilizer, replacing artificial fertilizer. Since no bioorganisms are lost in the composting process, biocompost completes the humus and nutrient cycle naturally and locally.
2) As a substitute for peat in horticulture: Biocompost is the ideal peat substitute in horticulture. Peat is extracted from drained moors and is thus one of the worst climate sins of all.
Next steps
To complete our life cycle assessment, the next step will be to investigate in more detail the positive impact factors of compost as a fertilizer substitute and humus builder, as well as a peat substitute, in order to be able to quantify them in CO2eq.
Patricia Eschenlohr
Co-Founder, CMO